DEFENDER'S EPIC TRANSCONTINENTAL EXPEDITION
Humanitarian and adventurer Kingsley Holgate has embarked on a world-first journey in the Defender Transcontinental Expedition. In October 2021, Kingsley and his team set off to travel across 30 countries, which will clock up more than 30,000km, behind the wheel of the unstoppable Defender - a vehicle designed for optimum durability.
The expedition is the 40th geographical and humanitarian journey undertaken by the team, and the challenging terrain will put the Defender to the ultimate, real-world test. This incredible feat also aims to be the first carbon-neutral journey of its kind, which will be achieved through the planting of 6,000 Albany Thicket indigenous trees and shrubs in the Eastern Cape of South Africa.
Starting in Cape Agulhas, the southernmost point of the African continent and so-called 'Hot Cape', the team plan to reach the 'Cold Cape', Nordkapp in the Arctic Circle, Norway, in July 2022. The expedition will end at Red Wharf Bay on the Isle of Anglesey, Wales, significant as the place where the vision of Land Rover was first sketched in the sand by Maurice Wilks in 1947.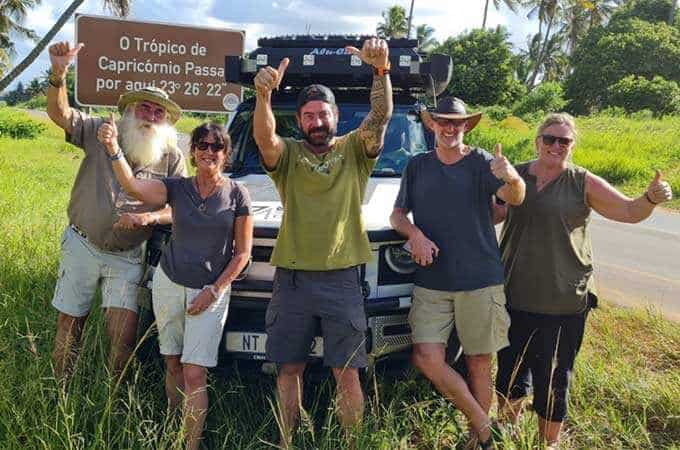 ADVENTURE WITH A HUMANITARIAN HEART
The Defender Transcontinental Expedition's humanitarian and environmental work in sub-Saharan Africa is driven by the principle behind all of Holgates' expeditions, which is using adventure to improve and save lives. This work includes malaria prevention, water purification, early childhood development and environmental conservation.
Halfway through their journey across Mozambique, a spokesperson for the team, offering insight into the vital work they are doing, said, "It's been a fantastic week of expedition. After crossing the border, we went straight into full days of malaria prevention work in high-risk areas…we returned to high-risk villages, last visited before Covid, to replace old mosquito nets and re-educate the mums and kids about malaria prevention…The Defenders are going well, packed to the hilt of course and attract lots of interest from the roadside crowds, especially kids walking to and from school."
You can follow the progress of the Defender Transcontinental Expedition via the Kingsley Holgate Foundation's Facebook page.
You can also learn more about the rugged solidity of the New Defender built using our toughest materials yet.