Range Rover Velar Dynamic SE
Range Rover Velar Dynamic HSE
Range Rover Velar Autobiography
RANGE ROVER VELAR MODELS AND SPECIFICATIONS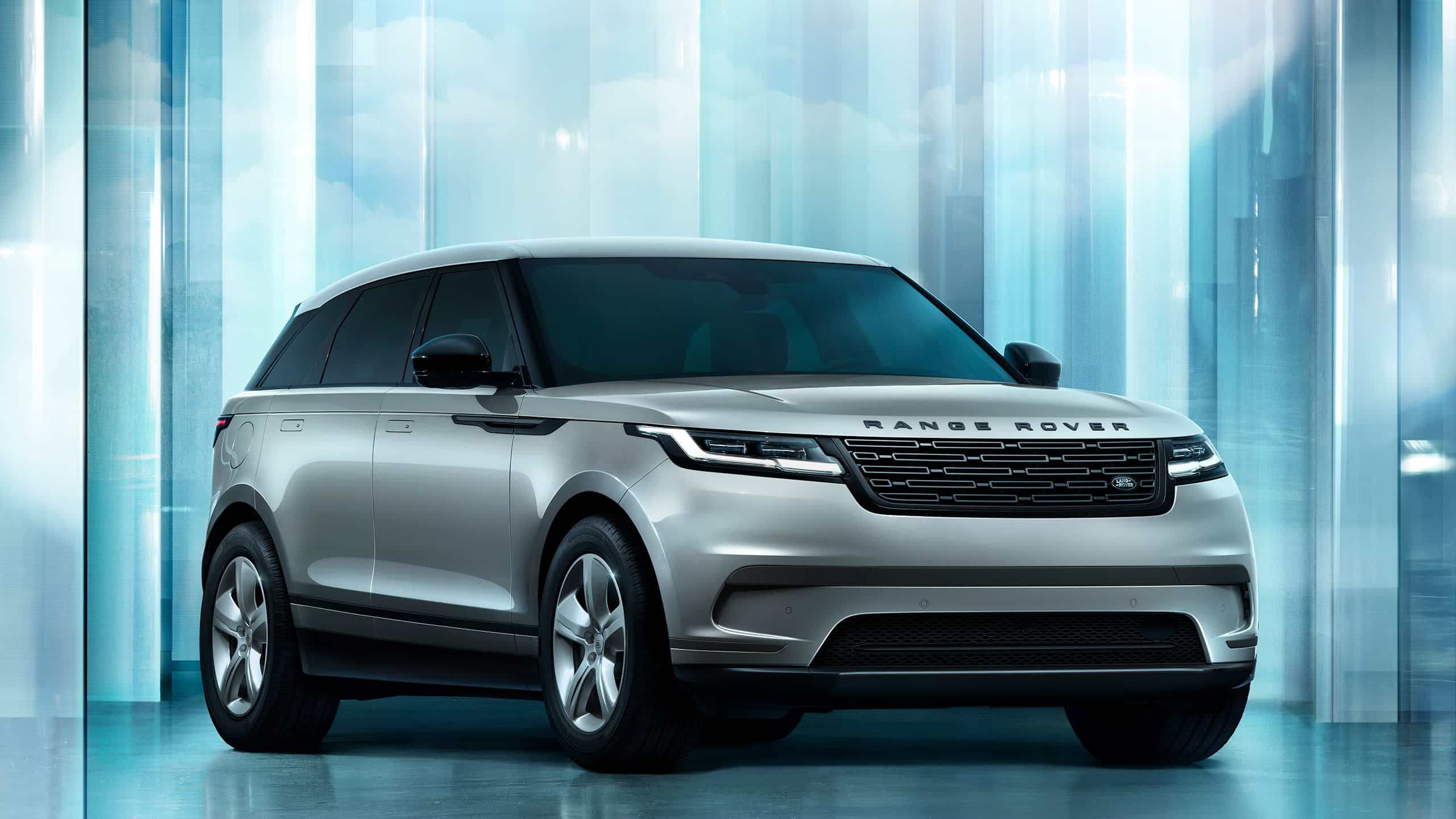 Range Rover Velar Dynamic SE
Exterior features
Body-coloured roof
380mm front and 325mm rear brakes
Auto High Beam Assist (AHBA)
Dynamic Exterior Pack
Rain sensing windscreen wipers
Electric windows with one-touch open/close and anti-trap
Acoustic laminated windscreen
Heated, electric, power fold door mirrors with approach lights and auto-dimming driver side
Driver assistance
Blind Spot Assist
Rear Collision Monitor
Rear Traffic Monitor
Adaptive Cruise Control with Steering Assist
Rear Camera
Emergency Braking
Driver Condition Monitor
Lane Keep Assist
Front and Rear Parking Aid
Transmission and dynamics
Terrain Response with Dynamic Program
Coil suspension
Adaptive Dynamics
Single-speed transfer box (high range only)
8-speed Automatic Transmission
Satin Chrome gearshift paddles
Hill Launch Assist
Dynamic Stability Control (DSC)
Low traction launch
Electronic Traction Control (ETC)
Roll Stability Control (RSC)
Speed Proportional Electronic Power Assisted Steering (EPAS)
Cornering Brake Control (CBC)
Hill Descent Control (HDC)
Open Differential with Torque Vectoring by Braking
Electric Parking Brake (EPB)
Anti-lock Braking System (ABS)
Electronic Brake-force Distribution (EBD)
Trailer Stability Assist (TSA)
All Terrain Progress Control (ATPC)
Headlights and lighting
LED headlights with signature DRL
Automatic headlights
Automatic Headlight Levelling
Follow me home lighting
Rear fog lights
Rear Animated Directional Indicators
Interior features
Lockable glovebox
Cabin lighting
Carpet mats
Bright metal pedals
Standard IP end caps
Metal loadspace scuff plate
Illuminated vanity mirrors
Auto-dimming interior rear view mirror
Front and rear cupholders
Air Quality Sensor
Metal front treadplates
Two-zone Climate Control
Leather steering wheel with Moonlight bezel
Electrically adjustable steering column
Meridian™ Sound System
Grained leather seat facings
Seating functionality
40:20:40 split fold rear seat
Rear centre headrest
Passive front headrests
14-way driver memory front seats
Convenience
Power Socket Pack 2
Wireless device charging
Loadspace cover
Flush deployable door handles
Powered tailgate / boot lid
Heated rear window with timer
Rear wash wiper
Infotainment
Digital Audio Broadcast (DAB) radio
Android Auto™
Apple CarPlay®
Remote
Online Pack with Data Plan
Pivi Pro
11.4" Touchscreen
Bluetooth® connectivity
Interactive Driver Display
Safety and security
Brake pad wear indicator
Emergency Brake Assist
Power operated child locks
Seat belt reminder
Rear ISOFIX
Global lock/unlock switch on driver door
Lock only switch on front passenger door
Keyless Entry
Voice control
6 airbags
Intrusion sensor
Traffic Sign Recognition and Adaptive Speed Limiter
Self-sealing tyres
Tyre Pressure Monitoring System (TPMS)
Range Rover Velar Dynamic HSE
Exterior features
Body-coloured roof
380mm front and 325mm rear brakes
Dynamic Exterior Pack
Rain sensing windscreen wipers
Electric windows with one-touch open/close and anti-trap
Acoustic laminated windscreen
Heated, electric, power fold door mirrors with approach lights and auto-dimming driver side
Driver assistance
Blind Spot Assist
Rear Collision Monitor
Rear Traffic Monitor
Adaptive Cruise Control with Steering Assist
Rear Camera
Emergency Braking
Driver Condition Monitor
Lane Keep Assist
Front and Rear Parking Aid
Transmission and dynamics
Terrain Response with Dynamic Program
Electronic Air Suspension
Adaptive Dynamics
Single-speed transfer box (high range only)
8-speed Automatic Transmission
Satin Chrome gearshift paddles
Hill Launch Assist
Dynamic Stability Control (DSC)
Low traction launch
Electronic Traction Control (ETC)
Roll Stability Control (RSC)
Speed Proportional Electronic Power Assisted Steering (EPAS)
Cornering Brake Control (CBC)
Hill Descent Control (HDC)
Open Differential with Torque Vectoring by Braking
Electric Parking Brake (EPB)
Anti-lock Braking System (ABS)
Electronic Brake-force Distribution (EBD)
Trailer Stability Assist (TSA)
All Terrain Progress Control (ATPC)
Headlights and lighting
Pixel LED headlights with signature DRL
Automatic headlights
Automatic Headlight Levelling
Follow me home lighting
Rear fog lights
Rear Animated Directional Indicators
Interior features
Lockable glovebox
Cabin lighting
Carpet mats
Bright metal pedals
Standard IP end caps
Metal loadspace scuff plate
Illuminated vanity mirrors
Auto-dimming interior rear view mirror
Front and rear cupholders
Air Quality Sensor
Metal front treadplates
Two-zone Climate Control
Leather steering wheel with Moonlight bezel
Electrically adjustable steering column
Meridian™ Sound System
Windsor leather seats
Seating functionality
40:20:40 split fold rear seat
Rear centre headrest
Passive front headrests
Convenience
Power Socket Pack 2
Wireless device charging
Loadspace cover
Flush deployable door handles
Powered tailgate / boot lid
Heated rear window with timer
Rear wash wiper
Infotainment
Digital Audio Broadcast (DAB) radio
Android Auto™
Apple CarPlay®
Remote
Online Pack with Data Plan
Pivi Pro
11.4" Touchscreen
Bluetooth® connectivity
Interactive Driver Display
Safety and security
Brake pad wear indicator
Emergency Brake Assist
Power operated child locks
Seat belt reminder
Rear ISOFIX
Global lock/unlock switch on driver door
Lock only switch on front passenger door
Keyless Entry
Voice control
6 airbags
Intrusion sensor
Traffic Sign Recognition and Adaptive Speed Limiter
Self-sealing tyres
Tyre Pressure Monitoring System (TPMS)
Range Rover Velar Autobiography
Exterior features
Body-coloured roof
380mm front and 325mm rear brakes
Solar attenuating windscreen
Autobiography badge
Dynamic Exterior Pack
Rain sensing windscreen wipers
Electric windows with one-touch open/close and anti-trap
Acoustic laminated windscreen
Heated, electric, power fold door mirrors with approach lights and auto-dimming driver side
Driver assistance
3D Surround Camera
Wade Sensing
Terrain Response 2 with Dynamic Program
Blind Spot Assist
Rear Collision Monitor
Rear Traffic Monitor
Adaptive Cruise Control with Steering Assist
Emergency Braking
Driver Condition Monitor
Lane Keep Assist
Front and Rear Parking Aid
Transmission and dynamics
Electronic Air Suspension
Adaptive Dynamics
Single-speed transfer box (high range only)
8-speed Automatic Transmission
Satin Chrome gearshift paddles
Hill Launch Assist
Dynamic Stability Control (DSC)
Low traction launch
Electronic Traction Control (ETC)
Roll Stability Control (RSC)
Speed Proportional Electronic Power Assisted Steering (EPAS)
Cornering Brake Control (CBC)
Hill Descent Control (HDC)
Open Differential with Torque Vectoring by Braking
Electric Parking Brake (EPB)
Anti-lock Braking System (ABS)
Electronic Brake-force Distribution (EBD)
Trailer Stability Assist (TSA)
All Terrain Progress Control (ATPC)
Headlights and lighting
Pixel LED headlights with signature DRL
Automatic headlights
Automatic Headlight Levelling
Follow me home lighting
Rear fog lights
Rear Animated Directional Indicators
Interior features
Four-zone Climate Control
Cabin Air Purification Plus
Configurable Cabin Lighting
Carpet mats
Bright metal pedals
Standard IP end caps
Metal loadspace scuff plate
Illuminated vanity mirrors
Auto-dimming interior rear view mirror
Front and rear cupholders
Air Quality Sensor
Illuminated metal front and metal rear treadplates
Leather steering wheel with Moonlight bezel
Electrically adjustable steering column
Meridian™ 3D Surround Sound System
Heated and cooled front seats
Lockable cooled glovebox
Extended Windsor leather Seats
Seating functionality
40:20:40 split fold rear seat
Rear centre headrest
Passive front headrests
20–way massage front seats with driver memory and rear power recline
Convenience
Power Socket Pack 2
Wireless device charging
Loadspace cover
Flush deployable door handles
Powered tailgate / boot lid
Heated rear window with timer
Rear wash wiper
Infotainment
Digital Audio Broadcast (DAB) radio
Android Auto™
Apple CarPlay®
Remote
Online Pack with Data Plan
Pivi Pro
11.4" Touchscreen
Bluetooth® connectivity
Interactive Driver Display
Head-up Display
Safety and security
Brake pad wear indicator
Emergency Brake Assist
Power operated child locks
Seat belt reminder
Rear ISOFIX
Global lock/unlock switch on driver door
Lock only switch on front passenger door
Keyless Entry
Voice control
6 airbags
Intrusion sensor
Traffic Sign Recognition and Adaptive Speed Limiter
Self-sealing tyres
Tyre Pressure Monitoring System (TPMS)
±Fuel consumption and CO2 emission figures are determined by testing under standardised laboratory conditions to comply with ADR 81/02 and ADR 79/04. These figures should only be used for the purpose of comparison amongst vehicles. Actual figures will generally differ under real world driving conditions and will vary depending on factors such as (but not limited to) driving style, vehicle's equipment and road, traffic, and weather condition.
±The figures provided are NEDC calculated from official manufacturer's tests. Figures may vary according to environment and driving style. For comparison purposes only. Real world figures may differ.
¹Price shown is the manufacturers recommended drive-away prices (MRDP) which applies to the vehicle model and optional features selected in the vehicle configurator and as described in the configuration summary. The MRDP is an estimated price which includes the manufacturer's recommended list price, any associated registration fees, applicable taxes (including GST), levies and CTP insurances at the time of publishing in accordance with the applicable state / territory legislation where the Retailer is located for a 12 month period. The MRDP may vary as a result of differences in price components such as location, stamp duty or registration fees. CTP rate is based on a private owner aged 40 with 0 demerit points, no accidents or driving convictions and the vehicle being garaged in the postcode entered. Some information presented or used in the MRDP calculation is sourced from third parties. Jaguar Land Rover Australia has made every effort to ensure accuracy, however please contact your preferred Jaguar Land Rover Retailer to confirm your actual drive-away price which may vary according to your individual circumstances, including any trade-in value agreed between you and the Retailer. Excludes fleet, government, rental buyers, hire car and chauffeur companies.
Jaguar Land Rover has made every effort to ensure pricing accuracy. However, due to various global impacts affecting the delivery and manufacturing costs of our vehicles, we are only able to display indicative pricing reflective of the current wholesale price of vehicles as at the date of display. The final retail price set by your local Retailer for an ordered vehicle may be subject to change to reflect any additional wholesale and other cost increases between the date of order and the final delivery date.
‡Top speed on engines with coil suspension is 210km/h.
‡‡When combined with electric motor.
△Includes a 75kg driver, full fluids and 90% fuel.
✦Wet: Volume as measured by simulating the loadspace filled with liquid. Volume measured up to the headliner. Boot configuration and total loadspace will vary by vehicle specification (model and powertrain) and market.
⬨When fitted with Electronic Air Suspension.
Weights reflect vehicles to standard specifications. Optional extras increase weight.